FRC-40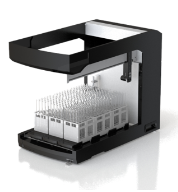 Efficient, Easy to Use, Space Saving
Up to six fraction collectors can be connected simultaneously.
Compatible with many racks corresponding to the intended fraction volume.
Can accommodate up to 3,240 fractions (6 FRC-40s, 10 mm tubes).
FRC-10A
A proprietary band function enables obtaining accurate fractions even when the peak elution time varies, by catching the target component according to variations in the chromatogram. If connected to workstation software, fractions can be simulated on screen to determine whether or not the fraction program is appropriate.
Drive System and Fraction Collection Methods
Arm-Movement X-Y System
Select either solenoid valve or direct through nozzle
Fraction Modes
Manual or programmed fraction collection by combining 14 types of parameters, such as slope, level, and band
Number of Fractions
16 to 144
Collection Tubes
Glass: 3.5, 5, 20, 32, or 50 mL, or user supplied
Polypropylene: 4.5, 5, 25, or 50 mL, or user supplied
FRC-10A Fraction Collector is required to control CBM-20A / 20Alite or SCL-10AVP.


This product is certified as Shimadzu's Eco-Products Plus.
Reduced power consumption by 59% compared with conventional Shimadzu's products.
Downloads
Download the latest brochure.